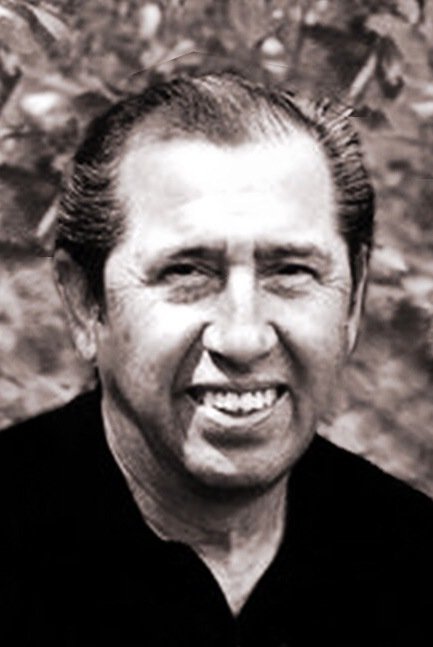 Obituary of Richard Anthony Ponce
Please share a memory of Richard to include in a keepsake book for family and friends.
Richard Ponce Sr., a native and lifelong resident of San Juan Bautista has died. He was 77. Ponce, who died on May 25, 2016, was born in San Juan Bautista to Trinidad and Julian Ponce, Sr. on May 8, 1939. Ponce attended local schools and graduated from San Benito High School as a talented art student in 1957. There he met and married his wife of 58 years Rachel Valadez. The couple lived and raised their five children in San Juan Bautista. Ponce was quite the artisan. He drew chalk drawings, painted with watercolors, threw pottery, made silver jewelry, laid tile, set brick and built home and garden wares out of repurposed antique wood. He also enjoyed gardening and had a green thumb that could grow a unique bounty of fruits and vegetables and extraordinary flowers. Ponce held dear his many friends from all walks of life. He had a curious spirit, a kind and generous heart, and a genuine concern for others that naturally drew people to him. He was also known as a jokester with a quick wit who always appreciated a good prank. Ponce served in the National Guard from 1956 to 1959 and had a thirty year career as a grocery meat manager who was recognized and awarded multiple years for highest performing grocery department in his district. After his retirement in 1997, he pursued fulltime his passion for all things old and historic as an Antique Collector and Dealer which he had become involved in years earlier. Before the internet and Ebay, Ponce spent endless hours perusing bookstores and libraries and reading up on all things old and interesting. He became the well-respected self-taught expert known among his dealer friends as one of the best. He was always sought out as the "resource guy" who could find most desired items or figure out what an item was or its value. Ultimately, Ponce ended up with over thirty years as a cherished expert in the antique business. Above everything, Ponce valued family, hard work, integrity, and service - sprinkled with lots of good humor. Active in family life, Ponce had a unique and special relationship with his wife, and all five of his children and seven grandchildren. He attended countless activities with his children and grandchildren including scouting activities, school, band, and dance performances as well as hundreds of sporting events including football, wrestling, baseball, softball and swimming. He enjoyed family outings such as Sunday drives, road trips, outdoor picnics, camping, and touring most of the California Missions. He was present at all family gatherings which he dearly enjoyed and was praised for his terrific barbequing skills. Ponce was also active in his beloved San Juan Bautista community serving as the local Boy Scout Treasurer, 1965-67; founding member and President of the San Juan Bautista Co-Op, a community action group instrumental in founding the first Pre-School in the city and maintaining the Youth Skating Program, 1976-1986; Fiesta Rodeo Board of Directors – Parade Chairman and Fiesta Sign Painter, 1976-1981; Volunteer Fireman, 1976-1981; City Council Member 1978-1980; Little League Coach 1983-1984; San Benito County Chamber of Commerce Board of Directors 2011-2013. Recently, Ponce was most proud and committed to the San Juan Committee as a founding member and President from 2011 until his death. The Committee's work included the opening of the San Juan Bautista Volunteer Welcome Center, Annual Children's Halloween Block Party, Community Christmas Tree and Lighting, secured funding for the San Juan Bautista Welcoming Monument and the development of the city's branding effort. He was a regular participant at city government meetings and was always willing and ready to assist in any capacity. As a lifelong volunteer committed to improving the quality of life in his community through collaborative, political, city, and social action causes, Ponce was dedicated to the economic vitality of his city and the preservation of its history. In 2010, Ponce received the San Juan Bautista Community Philanthropy Award. Ponce was a wonderful human being universally loved and cherished by many. He was a treasure to everyone his life touched. He is survived by his wife, Rachel Ponce; and children: Richard Ponce Jr., Michael Ponce Sr. (Sofia), Esther Rosario (Robin), Patricia Ponce (John), and Anthony Ponce (Lucy) and grandchildren, Nadine Ponce, Ryan Rosario, Aleah Rosario, Yalina Ponce, Michael Ponce Jr., Maya Hampsey and Bianca Ponce. In lieu of flowers and as an expression of sympathy, memorial donations may be sent to the San Juan Committee, P. O. Box 1416, San Juan Bautista, CA 95045 or the Aromas San Juan Bautista Community Schools Foundation, 2300 San Juan Hwy, San Juan Bautista, CA 95045. A funeral mass will be held at Mission San Juan Bautista on Thursday, June 2, 2016 at 11:00 a.m. followed by a burial at the San Juan Bautista Cemetery and reception at the VFW Hall, 58 Monterey Street, San Juan Bautista.
Mass of the Resurrection
11:00 am - 12:00 pm
Thursday, June 2, 2016
Mission San Juan Bautista
406 2nd Street, P.O. Box 400
San Juan, California, United States
831-623-2127
Burial
12:00 pm - 12:30 pm
Thursday, June 2, 2016
San Juan District Cemetery
San Juan Bautista
San Juan Bautista, California, United States
Share Your Memory of
Richard
870 San Benito Street | Hollister, California | 95023
Phone: (831) 637-3757 | Fax: (831) 637-8959 | Email: tmgan@att.net
Office Hours:
Monday - Friday
8:30 AM to 4:00 PM
On Call 24/7