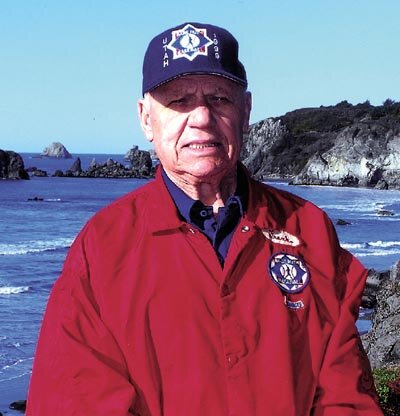 Obituary of Frank Michael Cembellin
Please share a memory of Frank to include in a keepsake book for family and friends.
Frank passed away in the early morning of the 4th of July at Veteran's Hospital in Fresno, California at the age of 98. Frank was born to Felipe Cembellin and Gabriela Blaques. Frank's parents immigrated from the Salamanca/Avila area of Spain and settled in Hollister area. One of seven children along with brothers; Leo, Victor and Larry, and sisters; Marty, Dorothy, and Natalie grew up in Hollister and spent his formative years there and attended Sacred Heart Parish School through the eighth grade then attended and graduated from Hollister High School. Frank played football and baseball in high school and his interest in baseball would remain at his side for decades to come. After high school Frank joined the U.S. Marine Corp in 1942 and joined the fight in WWII against the Japanese in the Pacific theater. Frank fought in the horrific Battle of Peleliu near the Philippines to help clear the way and secure passage of Army General Douglas MacArthurs' flank, and our American forces in order to liberate the Philippines from Japanese occupation. Of the 9,000 soldiers that landed on the coral beaches of Peleliu 6,500 of those casualties were infantry Marines. During the war Frank became a decorated platoon sergeant and sharpshooter, and was honorably discharged after the war ended. After the war ended Frank moved back to Hollister, and attended Gavilan Junior College and played football. Soon after that he met first year P.E. high school teacher from Oregon named Gladys (Glo) Elliott. Thanks to his younger sister Dorothy who was a student in Ms. Elliott's P.E. class. She introduced Frank to Ms. Elliott, and Frank took the opportunity to help Ms. Elliott take down the volleyball nets at school and they almost instantly became a perfect match that lasted for 64 years until her passing in December of 2009. Frank and Glo as he affectionately called Gladys had 4 children: Michael, Leslie, Lori, and Sandy. After college he became a building contractor and developer by trade as well as a prolific community leader and volunteer. Among his many accomplishments and contributions to his community Frank became a Recreation Commissioner for the city of Hollister for over 20 years. In addition to being a general building contractor and soft drinks distributor, he was a lifelong member of the Elks Lodge, a charter member of Veterans of Foreign Wars Post N. 9242 of which he was past J.V. Commander. He was also past president of the UBE Lodge and was past commander of District IV Marine Corps League of California. He was past president of the P.T.A. at Hollister High and if that wasn't enough he also lead the honor guard for funerals for veterans from Hollister. As a building contractor and developer Frank built many residential homes in Hollister and a particular housing development that he completed he dedicated it to his father by naming the newly designated street that ran through the development, Cembellin Drive. Frank was also fundamental in introducing and building the first swimming pool in Hollister. His love for his community and his desire for increased recreational facilities for kids of Hollister lead him to get involved and helped create the first senior Babe Ruth Baseball League in central and northern California. Along with his friend, Fred Marentis they are acknowledged with a plaque located at the Veterans Memorial Park as "The founding Fathers of Youth baseball in San Benito County for their selfless contributions." This plaque also went on to list Frank's many contributions in expanding and popularizing the league and because of all those contributions Frank made to Babe Ruth baseball he was unanimously elected to the Babe Ruth Hall of Fame. Frank eventually found the perfect ocean front dream home for Glo in Brookings, Oregon where they would live permanently. While living in Oregon Frank found time to build the very first ever residential condominiums on the coast of Oregon. He approached the Oregon Coastal Commission with his project and was given permission; subsequently Frank successfully built 2 sections of condos on the cliffs of Brookings, Oregon. In addition, he helped pass a bond which added a major section to the Brookings High School. He helped to oversee it's construction. Frank was an extraordinary man because of all of the time he selflessly dedicated to one worthy cause after another. From enhancing a healthier and more wholesome personal and physical environment, to building or physically creating something no one had ever attempted before. Frank accomplished a lot while he was alive but the biggest accomplishments were all the lives he touched and all of the relationships he created and nurtured throughout his life. He was a great husband, father, uncle, grandfather and friend. His family, his community, and his country are much better off because of the life and legacy that this extraordinary man left for us all. May God bless and cradle his soul in his ever loving arms for all eternity. Survived by his children: Mike, Leslie, Lori, and Sandy and grandchildren; Kristen, Nick, Cody, Quincy, and Matthew and great-grandchildren; Billy and Sally. Visitation will be on Monday, July 18th from 10:30 a.m. to 1:30 p.m. with services beginning at 12:30. Interment will follow at Calvary Cemetery. A reception will then be held at Paine's Restaurant.