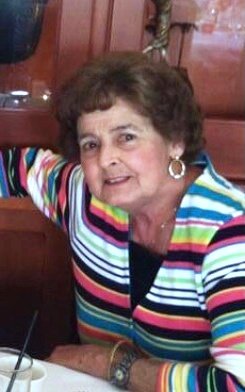 Obituary of Judith C. Medina
Judy Craig Medina passed away on April 1, 2021 at Hazel Hawkins Hospital after a long illness. Judith was born on November 28, 1937 to Jeff and Theresa Young, she had one brother, Gary. Judy attended local schools in Hollister, graduating from San Benito High. Judy enjoyed music, she played the Clarinet, Piano, and Organ. While in college at San Jose State University, she was voted homecoming queen and earned a Bachelor's Degree; becoming a school teacher within the Hollister School District. As a beautiful young woman in 1958, Judy caught the eye of Frank Medina, the love of her life, and a short year later in 1959, they married. They shared almost 50 years together until Frank's passing in 2009. They began their family in 1960 with the birth of their son Greg, and in 1962 completing their family with the birth of their daughter, Julie. Judy was a devoted loving wife, mother and homemaker. Judy was a fantastic cook, and loved preparing delicious meals for her family, and friends; and if someone was ill, she was at their door with a fresh home cooked meal. Judy loved animals of every kind, and was the first in town to have llamas, and the only camel in Hollister. She compassionately donated her time and resources to pet rescues, fostering many kittens until they were ready to be adopted. Her pets brought her so much joy, comfort, and support especially in the past several years. Judy enjoyed shopping, gardening, and was known for her beautiful yard, and bronze statues. Judy is preceded in death by her husband Frank; daughter Julie; her parents; and brother Gary. She is survived by her son Greg; Grandchildren; Taylor (Zack), Spierling, Scott (Alyssa) Medina. Great-Grandchildren; Blake and Reid Spierling. Nieces; Linda (Joe) Lial, Debbie Overweser, and Pam Medina. Nephews; Frank Paura, Gary (Tami) Clayton, Darrell (Kim Clayton, and many great nieces, nephews, and many loving friends. A special thank you to her niece, Linda Lial for all her love and support during her lengthy illness, and especially after Julie's passing. Graveside services will be held at the Oddfellows Cemetery on Wednesday, April 14th, at 11:00 a.m. with a lunch reception following at Paine's Restaurant. Donations in Judy's memory may be made to All Creature's Great & Small, Po Box 904, Hollister, Ca 95024 or any charity of your choice. Covid Rules will apply.
Graveside Service
11:00 am - 12:00 pm
Wednesday, April 14, 2021
IOOF Cemetery
Buena Vista Rd. @ Acacia Ct.
Hollister, California, United States
Internment
11:00 am - 12:00 pm
Wednesday, April 14, 2021
IOOF Cemetery
Buena Vista Rd. @ Acacia Ct.
Hollister, California, United States
Lunch Reception
Lunch Reception following Graveside Service at Paine's Restaurant, 421 East Street, Hollister, Ca 95023.