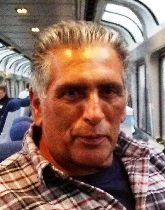 In Memory of
Juan Manuel Canela Diaz
1960 - 2018
Obituary of Juan Diaz
Juan (John) Manuel Canela Diaz passed unexpectedly June 8th at Hazel Hawkins Hospital surrounded by his wife, daughter and family. Juan is survived by his wife Vicky Taborski Diaz, his daughter Lisa Wiley of Madera and his three grandchildren Micah Hernandez, Ronnie Wiley Jr. and Leilani Wiley all of Tallahassee, Florida.
John was born and raised here in Hollister. He worked as a heaven equipment operator and Truck driver for many years. In 2008 he decided to study to be a Crane operator, which some had doubts if he could pass the test. If you knew John, you knew he was persistent; and if you told him he couldn't do something, by God he would be sure he did. He did pass that test and loved it. You could always find him tinkering in his shop, cutting fire wood or working in his yard. He was Uncle John to many even if he wasn't your uncle. John was the guy you would go to for any help you might need with making something, borrowing something (if he could find it) or if you needed to talk he was always there for you. He also believed he was a "driving Instructor" and would gladly teach you to drive, no matter what your age. John had a huge heart and it was reserved for family, friends and his dog, Shadie. He loved making me laugh. He told me if he made me laugh for the rest of my days, he has done his job. He was the best husband, father, brother, grandfather, uncle and friend you could ask for. This world has suffered a great loss; without him ,his memories and inprint will last a lifetime.
Juan is preceded in death by his mother Hermelinda Canela Diaz, father Cipriano Diaz and brother Rafael Canela Salcedo,
Juan is also survived by Teresa Salcedo Barajas (Florencio) of Hollister, Dolores Salcedo of San Diego, Mario Canela Flores (Maryann) of Hollister, Arturo Canela Flores of Senora and Many nieces and nephews.
Visitation will be on Wednesday, June 13th from 4:00 p.m. to 8:00 p.m. with the recitation of the Rosary at 7:00 p.m.
On Thursday, June 14th, a Mass of the Resurrection will begin at 1:00 p.m. at Sacred Heart Church. Interment will follow at Calvary Cemetery.
Share Your Memory of
Juan
870 San Benito Street | Hollister, California | 95023
Phone: (831) 637-3757 | Fax: (831) 637-8959 | Email: tmgan@att.net
Office Hours:
Monday - Friday
8:30 AM to 4:00 PM
On Call 24/7