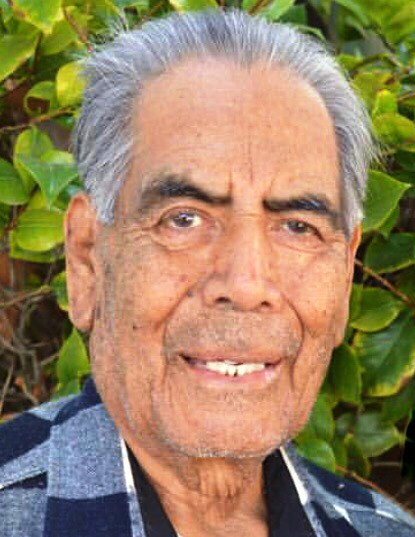 In Memory of
Salvador Portillo "Chava" Velez
1930 - 2017
Obituary of Salvador Velez
Salvador Portillo Velez passed away at his Hollister residence on December 26th, 2017 at the age of 87.
Salvador "Chava" passed away in his home on December 26th, 2017, at the age of 87. Salvador was born to Celedonio and Petra Velez in Nochistlan, Zacatecas, Mexico.
He is survived by his wife Isabelle in marriage for 57 years; two children, Salvador Anthony Velez (Linda Velez), Sylvia Pulido (Victor Pulido); his sister Rosario Velez-Diaz; nine grandchildren: Holly (Erick) Almazan, Pamela Miller, Belinda Pulido, Robert Miller, Holly Velez(Aaron Lucas), Tristen Pulido, Salvador Velez III, Nina Velez and Savannah Pulido; six great-grandchildren: Xavier, Lexi, Emily, Amara, Ava and baby Emmit; as well as numerous nieces and nephews.
Salvador worked in the local Tri-Valley Cannery for over 35 years. When he retired, he enjoyed his time with his grandchildren. He loved to cook, fish, watch soccer, and travel the world. Especially to his home town of Nochistlan, Mexico. Salvador was very proud of his garden and fruit trees. He was preceded in death by his parents and brothers, Maximo, Rogelio, Jose and Jesus Velez and his sister Reyes Velez.
Visitation will be held on Tuesday, January 2nd, at Grunnagle-Ament-Nelson Funeral Home from 1:00 pm to 8:00 pm with the recitation of the Rosary at 7:00 pm.
On Wednesday, January 3rd, family and friends will meet at Sacred Heart Church at 11:00 am for a Mass of the Resurrection. Interment will follow at Calvary Cemetery.
Share Your Memory of
Salvador
870 San Benito Street | Hollister, California | 95023
Phone: (831) 637-3757 | Fax: (831) 637-8959 | Email: tmgan@att.net
Office Hours:
Monday - Friday
8:30 AM to 4:00 PM
On Call 24/7