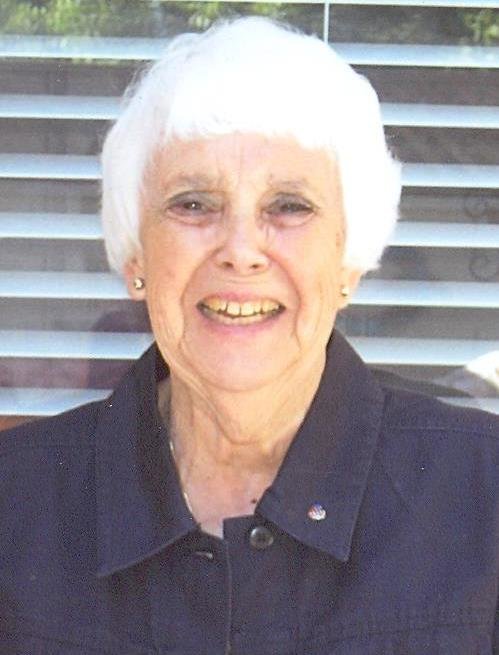 In Memory of
Bernice D. Galdos
1930 - 2017
Obituary of Bernice Galdos
Bernice D Galdos passed away peacefully on 7/26/17 at her home in Surprise, Arizona. Her daughter and son-in-law were with her at her passing.
She was born on May 1, 1930, the daughter of Mary and Tony Vieira. Gridley California was her home throughout her childhood and high school years. She then moved with her mother Mary to Hollister. There she met her husband, Tom Galdos. He was the love of her life. They were married for 54 happy years. She was the loving mother of three children, Linda, Tommy and Karin.
Bernice was a meticulous homemaker. She loved to cook. Her enchiladas and Spanish rice were a favorite at the many "Galdos" family gatherings. She loved to make homemade ice cream usually giving the grandchildren the "honor" of turning the crank on the ice cream machine!
She loved to travel with her husband Tom and attended many of his "ship reunions" all over the United States. She also loved to go on bus trips with the "Golden Years" and "Friends 4 Ever" groups. Bernice was employed by Ladd Hardware for over 30 years until she retired.
She is survived by her children: Linda Freitas and husband Joe, Tom Galdos and wife Lisa, Karin Yuste and husband Ron. Grandchildren: Lynette Freitas, Michael Freitas, Thomas Galdos, Nathan Galdos, Courtney Gibson, Stacie Padilla, Stefanie Vanderford, and Stefan Yuste. She was a proud great grandmother of 14 great grandchildren.
She is also survived by her mother, Mary Cesco, her sister, Mary Caldera
Sisters-in-law, Juanita Marcus and Carmen Vieira as well as many, many nieces and nephews.
Donations in her name may be made to the Alzheimer's Foundation or to
your favorite charity in Care of the mortuary.
Visitation will be on Wednesday, August 2nd, from 08:30 a.m. to 10:30 a.m. at Grunnagle-Ament-Nelson Funeral Home.
Family and friends will then meet at Sacred Heat Church for a Mass of the Resurrection at 11:00 a.m. Interment will follow at Calvary Cemetery.
870 San Benito Street | Hollister, California | 95023
Phone: (831) 637-3757 | Fax: (831) 637-8959 | Email: tmgan@att.net
Office Hours:
Monday - Friday
8:30 AM to 4:00 PM
On Call 24/7