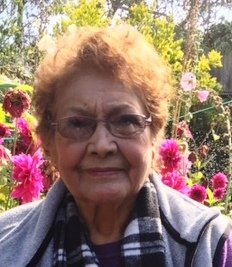 In Memory of
Maria Negrete Gonzales
1935 - 2017
Obituary of Maria Gonzales
Maria Negrete Gonzales, age 81, of Hollister, passed away in Royal Oaks on July 14, 2017. She departed this world with two of her daughters and grandson by her bedside.
Maria was born in Coalcoman Michoacán Mexico to Luis Negrete & Nolberta Martinez On September 30, 1935 . She migrated to States in the 1970s and had been a long time resident of San Benito County. She worked in Agriculture her early years and was later a homecare giver for over twenty years. Maria was the matriarch of the family. Maria welcome all to her home with a smile and a meal. We will miss her wit, and boldness.
Maria was preceded in death by her first husband Pedro Sanchez, oldest daughter María Luisa Sanchez , and her eldest grandchildren; Manuel Mendoza and Yesenia Garcia along with her late husband Manuel G Gonzales.
Maria is survived by her daughters Consuelo Perez of Royal oaks & Bertha Barajas of Salinas. Along with nine Grandchildren, and her 14 great grandchildren.

Visitation will be on Wednesday July 19th, 2017 from 4:00pm to 8:00pm with the recitation of the Rosary at 7:00pm. At Grunnagle Funeral Home 870 San Benito Street, Hollister, CA
Mass will be held Thursday July 20, 2017 at Sacred Heart Church Catholic Church 680 College St, Hollister, CA. Interment will follow at Calvary Cemetery, 1100 Hillcrest Rd, Hollister, CA. Following the interment, a celebration of life will begin at 1:00 pm to 3:00 pm, at Fairfield Inn & Suites Marriott, 390 Gateway Drive, Hollister
870 San Benito Street | Hollister, California | 95023
Phone: (831) 637-3757 | Fax: (831) 637-8959 | Email: tmgan@att.net
Office Hours:
Monday - Friday
8:30 AM to 4:00 PM
On Call 24/7