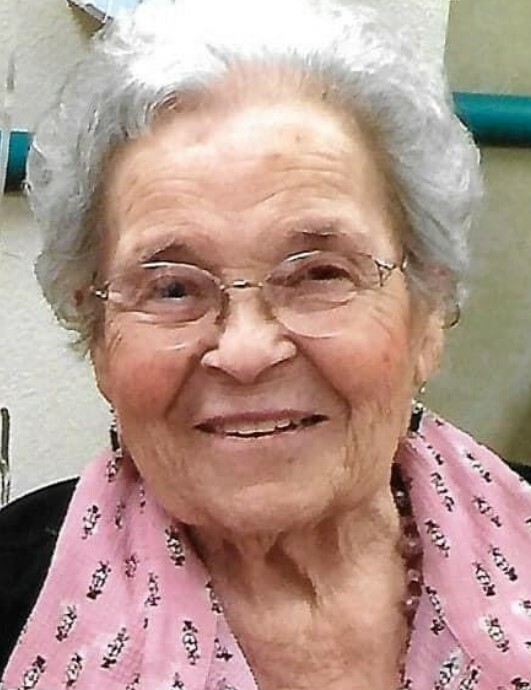 Obituary of Carmen F. Galdos Vieira
Please share a memory of Carmen F. to include in a keepsake book for family and friends.
Carmen Vieira, 93 passed away peacefully on January 24, 2023. Carmen was a lifelong Hollister resident and will be remembered as a rancher's wife and a kind, loving mother, grandmother, great-grandmother, sister, aunt and friend. The Galdos family arrived in Hollister in the early 1920s and lived on Hawkins Street where Carmen was born. Carmen was the youngest of 10 children. The Galdos home was always bustling with laughter and food. It was a childhood that all family members and those who were considered family will cherish forever. Carmen was a homemaker most of her life with a few jobs along the way; including cutting apricots, picking, and sorting walnuts, and school bus driver. An excellent cook, she could make a mean pot of beans. Carmen married Dick Vieira on May 7, 1950, at Sacred Heart Church, the same church she was baptized in and the church our final goodbyes will be celebrated. Carmen worked alongside Dick for many years, gathering and branding cattle and ranch work. She participated in horseback in many local rodeos and parades, carrying the American Flag in downtown Hollister in 1952. Carmen lived the ranch lifestyle and started out married life on the French Ranch working horseback, milking the cow, helping with hay, cooking for the ranch hands, and all with no electricity. When her daughters started school, she and Dick moved down Comstock Road to be able to get them to school, again with no electricity until 1970. After many years on Comstock Road, she and Dick lived and worked on the Hawkins Ranch before their final move to Santa Ana Valley Road. Carmen used to say she had many wedding gifts she was excited to use because she finally had electricity. Carmen was widowed upon Dick's death in January 2017. Something to think about, Carmen and Dick were both born in June and both died in January. There are so many coincidences with the number "9" (Dick's favorite number) involved in both their lives and deaths. There is a reason for everything and we may never know the answer. But one thing we know for sure, Dick was waiting for her with open arms. Carmen is survived by her daughters Trish (John Maderis), Merri Vieira, granddaughters Julie Dolson and Dawn Carey, grandson Rick Maderis, great-grandson John Valdez, and great-granddaughter and namesake Carmen Rose Maderis. Carmen is also survived by her sister Juanita Marcus along with many nieces, nephews, great-nieces, great-nephews, and godchildren. Carmen was the daughter of Tom and Beatrice Galdos and sister to Marie Vallejo, Louise Brannum, Frank Galdos, Helen Garcia, Henrietta Leichtle, Eugene Galdos, Laura Baughman and Tom Galdos Sr. who preceded her in death. Funeral Services will held on Monday, February 6, 2023, at 11:00 AM at Sacred Heart Catholic Church, 680 College Street, Hollister. Graveside services will follow at 12:00 at Calvary Cemetery 1100 Hillcrest Road, Hollister. Reception details will be announced at Carmen's mass. Donations may be made in Carmen's memory to charity of choice.