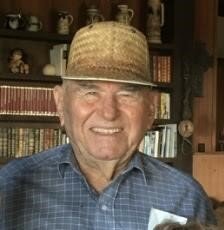 Obituary of Roy Ernest Lompa
Please share a memory of Roy to include in a keepsake book for family and friends.
Thursday afternoon, December 8th, 2022, in the presence of loved ones, Roy Lompa passed peacefully to the next life. His incredible passion for big ideas was with him until the end of his time on this earth. He will be remembered for his quirky sense of humor, individualism, strength of conviction and commitment to his family and friends. He was a go-for-it kind of guy with a motto of - "if you can't find a way, then make your own." We celebrate Roy, our father, with the spirit he embraced in life. He chose to live his life with the pedal to the medal. Wearing his signature Mexican straw hat, Levi jeans and checked shirt with accompanying bulging shirt pocket stuffed with a pen, and a small notebook filled with ideas and a list of things to do, he graduated from driving an El Camino to a small Toyota pickup. Roy was known for driving hundreds of miles while checking in on his ideas, friends, and family. When he was ready to hit the road and told to drive safely, the response of "Nothing under a 100" was articulated with a wink. When caught speeding, Roy was legend - he enrolled in traffic schools all over California to avoid an increase in his insurance. Multiple times he engaged in "citizens arrests" against the police officer who ticketed him. Even though he came off as a personality to reckon with, deep down he was a softie. He was incredibly loyal and a passionate defender of his beliefs. Shooting from the hip was ingrained in his DNA. Roy Lompa was born in Hollister, California on April 26, 1927; a Taurus straight from the start - he would fight for his chosen path. His ancestors, from Switzerland, homesteaded Pine Mountain in San Benito. A true local of Hollister, his whole life, he would watch the changes roll through. Growing up in Southside Valley, when not attending the one-room schoolhouse, Roy and his childhood friend, "Snow'', would romp in the San Benito River gathering rocks, watching birds, and collecting their eggs. Roy was connected to nature his entire life. He was a lover of all animals and enjoyed bird watching (he would return as a falcon). In his words, Hollister was the "Garden of Eden" and after serving in World War II and the Korean War, he would return. Roy attended and graduated from UC Davis with a degree in Animal Husbandry. At Davis, he joined the Calfa fraternity where he developed lifelong friendships. After starting out as a traveling salesman for commercial walnut harvesting equipment, he owned and operated several Sizzler restaurants. He also built and ran the current A&W in Hollister where one can still get a mean rootbeer float. While visiting Yosemite, he would meet the beautiful, vivacious, love of his life, Rita; they would marry after knowing each other for only six months. Together they would build a home and life around farms in Hollister and in the San Joaquin Valley. Their love would take them through 62 years of marriage and the rearing of five children. Known for his strong opinions and don't back down style of conversation, Roy would be a constant voice at the unofficial Coffee Club at Jerry's Restaurant. World problems would be solved by the "Old Timers" of Hollister. Energy would be poured into new adventures and into the organization of dances and fund-raisers for the Elk's Club where he participated for years and eventually served as the Exalted Ruler. Being members of the Elk's Club "Blues Brothers" was a joy for Roy and Rita; they made long-lasting friendships and looked forward to the monthly dances. Roy was a smooth dancer who took command of the floor, guiding Rita effortlessly through an upbeat foxtrot; they loved to dance together. They also loved Marshy Lake, a slice of heaven in the Trinity Alps, which they bought in their first year of marriage; it would be a lasting legacy of outdoor wild family fun and ultimately his final resting place. Routinely responding to the question, "How you doing Roy?" - "Just right!" was always the response. Roy will be remembered as a man who was down-to-earth, tenacious, a risk-taker, hard-headed and incredibly loyal to all that he loved. Owning his middle name of "Earnest" we know, that up above, Roy is "Just right" - but he is definitely missed down here on Earth. He is survived by: his wife Rita Lompa; his children Tracy Lynch and spouse Tish Lynch, Dan Lompa and spouse Christine Lompa, Tye Lompa and spouse Janet Lompa, Kim Garcia and spouse David Garcia and Eva di Santo and spouse Tom di Santo. He is survived by his grandchildren: Henry and Sky Lompa - Chance, Addie, Holly and Cache Lompa - Jacob, Charlie and Oliver Garcia and Trinity and Nico di Santo. In lieu of flowers, please send well wishes to his surviving family members and or donate to the local Hollister Elks Chapter.
870 San Benito Street | Hollister, California | 95023
Phone: (831) 637-3757 | Fax: (831) 637-8959 | Email: Grunnagles@gmail.com
Office Hours:
Monday - Friday
8:30 AM to 4:00 PM
On Call 24/7