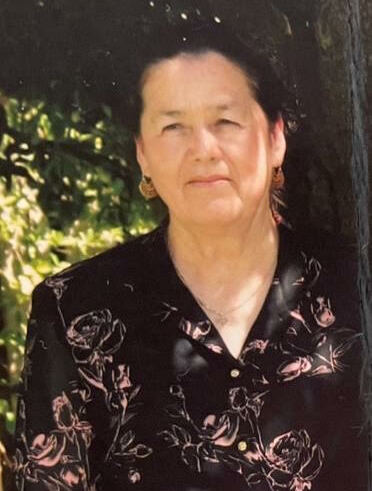 Obituary of Emilia Perez
Please share a memory of Emilia to include in a keepsake book for family and friends.
En memoria amorosa de nuestra querida madre Emilia Perez, se fue al reencuentro con sus padres Patrocinio y Jesus Rosales, sus hermanos Herlinda, Bertha y Jose el día 30 de agosto del 2022 en su hogar en Gilroy California a la edad de 77 años. Emilia estaba rodeada de su familia cuando dejó esta vida para ir al encuentro con dios. Nació el 4 de febrero del 1945 en Jerez, Zacatecas. Era una madre amable, cariñosa y dedicada que siempre ponía las necesidades de su familia a las suyas. Emilia, una mujer fuerte que enfrentó todos los desafíos de su vida con coraje y humildad. Siempre sera amada y recordada con amor por toda su familia especialmente por su esposo Jose Rodolfo Perez y sus hijos Pedro, Consuelo, Sigifredo, Maria, Veronica, Alma, Ana y Elena. Ella fue una fuente de inspiración para todos nosotros y sera profundamente extrañada por todos aquellos cuyas vidas tocó. A los ojos e su familia Emilia fue y siempre sera la mujer mas fuerte y valiente que jamas alla existido y sele recordara con mucho cariño y amor. Tendrá su velación y rosario el dia 10 de septiembre del 2022. De 4 a 7pm el rosario de 5 a 6pm. En la funeraria Grunnagle-Ament Nelson 870 San Benito St. Hollister CA 95023 In loving memory of our beloved mother Emilia Perez, reunited with her parents Patrocinio and Jesus Rosales, her siblings Herlinda, Bertha and Jose on August 30, 2022 at their home in Gilroy California at the age of 77. Emilia was surrounded by her family when she left this life to go to meet God. She was born on February 4, 1945 in Jerez, Zacatecas. She was a kind, loving and dedicated mother who always put her family's needs before her own. Emilia, a strong woman who faced all the challenges of her life with courage and humility. She will always be loved and remembered with love by her entire family especially her husband Jose Rodolfo Perez and their children Pedro, Consuelo, Sigifredo, Maria, Veronica, Alma, Ana and Elena. She was a source of inspiration to all of us and will be deeply missed by all those whose lives she touched. In the eyes of her family Emilia was and will always be the strongest and bravest woman who ever existed and will be remembered with much affection and love. She will have her vigil and rosary on September 10, 2022. From 4 to 7pm the rosary from 5 to 6pm. At Grunnagle-Ament Nelson Funeral Home 870 San Benito St. Hollister CA 95023.
Velación (Vigil)
4:00 pm - 7:00 am
Saturday, September 10, 2022
Grunnagle-Ament-Nelson Funeral Home
870 San Benito Street
Hollister, California, United States
831-637-3757
Rosario (Rosary)
5:00 pm - 6:00 pm
Saturday, September 10, 2022
Grunnagle-Ament-Nelson Funeral Home
870 San Benito Street
Hollister, California, United States
831-637-3757
Share Your Memory of
Emilia
870 San Benito Street | Hollister, California | 95023
Phone: (831) 637-3757 | Fax: (831) 637-8959 | Email: tmgan@att.net
Office Hours:
Monday - Friday
8:30 AM to 4:00 PM
On Call 24/7