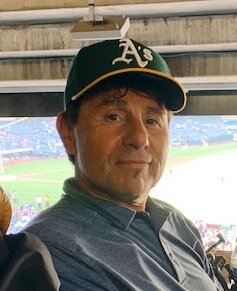 Obituary of Nicholas Peter Velho
Please share a memory of Nicholas to include in a keepsake book for family and friends.
Nicholas "Nick" Peter Velho, passed away on March 25, 2022 at the age of 64, in Hollister, CA, in his home with his wife and stepson by his side after a courageous battle with ALS. Nick was born in Hollister, CA to the late Thomas Joseph Velho and Margaret Genevieve Esquival on September 12, 1957. He was a 1975 graduate of San Benito High School. He played tackle on the frosh football team and his most interesting subjects were auto shop and metal shop. He was a member of Future Farmers of America and received numerous ribbons and awards including the Greenhand Award and the Chapter Farmer Award. He worked as an operating engineer for 30 years. He enjoyed camping, fishing, hiking, working on his home and in his shop, and was involved in Court Appointed Special Advocates (CASA) for Children of San Benito, Tres Pinos' Immaculate Conception Church Annual BBQ, and the ALS Association Golden West Chapter. He was a proud Veteran of the US Army. Completing basic training at Fort Leonard Wood, Mo., he received a medal for expert rifleman with the M-16 and sharpshooter with a hand grenade. He went on to serve his country while being stationed in Germany until he was honorably discharged. His Uncle Nick, his mentor, inspired him to build his home from the ground up where he ultimately planted his roots, raised multiple pets throughout the years, and married. He was extremely intelligent and no obstacles could deter him from accomplishing his goals. In his later years, when ALS robbed him of his strength and stamina, it also gave him grit we admired, sharing his wealth of knowledge and giving to others in unexpected ways. He continually found ways to live a quality life as the disease progressed. He will be greatly missed but not forgotten. Nick is preceded in death by his father, Thomas Joseph Velho, and his mother, Margaret Genevieve Esquival. He is survived by his wife, Teresa Velho; two children through marriage: Victor Sanchez & Tanairy Jurado; the four family pets: Honey, Boy, Ama, & Papa; three siblings: Pam Rocchi, Tom Velho, & Joseph Velho; two grandchildren: Matteo Hurado, & Enlia Hurado; five nephews, and three nieces. Visitation will be on Wednesday, April 6th from 1:00 p.m. to 7:00 p.m. at Grunnagle-Ament-Nelson Funeral Home On Thursday, April 7th family and friends will meet at St. Benedict's Church at 11:00 a.m. for a Mass of the Resurrection.