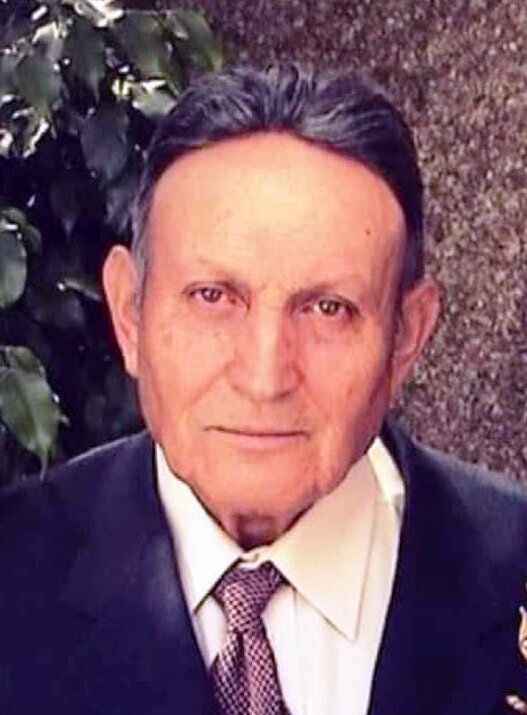 Obituary of Salvador A. Rangel
Please share a memory of Salvador to include in a keepsake book for family and friends.
Se hizo la voluntad de Dios, Salvador A. Rangel, conocido como Don Chava, de Jacona, Michoacán pasó a mejor vida el sábado 22 enero de 2022 rodeado de su esposa de 68 años de casados, sus hijos, nietos, y bisnietos. Salvador nació el 8 de diciembre de 1927, el hijo primogénito de Alberto Rangel y Eulalia Ayala. Fue campesino, comerciante, y el fundador de la Promotora Infantil La Esperanza en Jacona, Michoacán. Salvador fue un hombre lleno de buenos principios, trabajador, compasivo, generoso, justo, humilde, juguetón, travieso, inteligente, amoroso, un hombre de fe espiritual, centrado, romántico y muchas más cualidades. Disfrutaba los días en familia y siempre acompañado al lado de su gran amor, Elisa Cacho, por más de 68 años. Gozaba hacer obras de calidad y contarnos anécdotas e historias sobre su vida. Salvador se reunió con nuestro Padre Dios de una manera tranquila y en paz. Nos dejó un vacío en el corazón y un legado lleno de amor y fe. Se adelantó al paraíso de Dios Padre uniéndose a sus dos hijos Salvador y Rafael, dejando atrás a sus ocho hijos, Juan, Esperanza, Jesús, Guadalupe, Elisa, Carmelita, Fernando, y Josi. Además a sus yernos, nueras, nietos, y bisnietos. Covid rules will apply; Mask is required. Visitation will be on Thursday, January 27, 2022 from 4:00 p.m. to 7:00 p.m. with the recitation of the Rosary at 6:00 p.m. On Friday, January 28, 2022 family and friends will meet at St. Benedict's Church, 1200 Fairview Road in Hollister for a Mass of the Resurrection. Inurnment will follow at St. Benedict's Columbarium.