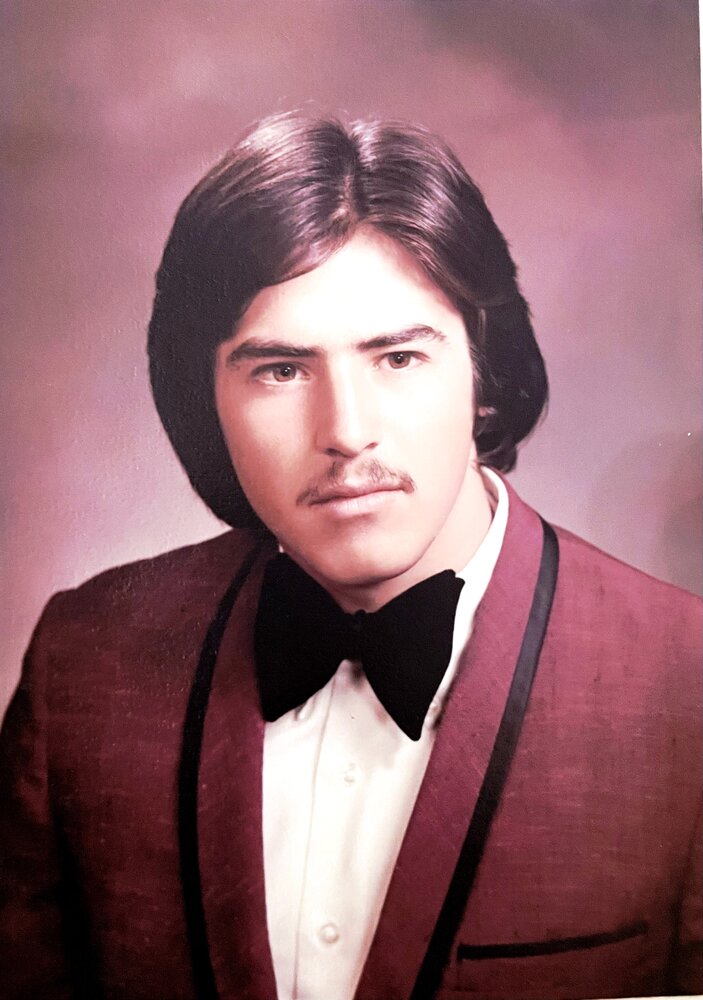 Obituary of Alfonso Diaz
Please share a memory of Alfonso to include in a keepsake book for family and friends.
John 3:16 For God so loved the world, that he gave his only begotten Son that whosoever believeth in Him should not perish, but have everlasting life. Alfonso Diaz Jr. went home to Heaven on Thursday, December 23, 2021 at the age of 64. He passed away due to cancer. Alfonso Diaz Jr. was born to Jesus Alfonso and Eleanor Ruiz Diaz on July 9, 1957 in Hollister, Ca. He was the third of five children with siblings Alice, Abbie, Larry and Diane. As a teen, he excelled in sports, with a genuine love for football. He was fun, genuine and unapologetically himself. His energy and presence when he entered the room was unmatched. He attended Sacred Heart School and graduated from Hollister High School in 1975. He was married to Barbara Britt Diaz, his junior high and highschool sweetheart. They had four children, Amber, Damien, Joshua and David. He took Christian education courses as well as taught Children's Church along with his wife for many years. He hosted youth nights and volleyball tournaments for his church at the ranch he lived on. There were countless, happy memories made at the ranch with family, friends, and fellow church members. Al, his wife and children made beautiful memories together throughout their lives. He loved his family dearly. Alfonso was a licensed contractor as a very young adult. He was a general contractor as well as a roofing contractor. He owned Al Diaz Roofing & Construction for many years. He also enjoyed drawing architectural plans for construction. In his latter years of life, he made the most positive impact on young men when he became a mentor, counseling and guiding men to Jesus Christ, his Savior. He was attending college, taking psychology/counseling courses to enhance his knowledge, to ultimately help others grow their relationship with Jesus Christ. Alfonso Diaz, also known as Al or Junior was loved by many and he loved many in return. The love for his family and friends was greater than any words could clearly express. He was extremely proud of his loved ones and would do anything for them. He loved his children deeply. He not only loved his grandchildren, he adored them. They were literally the light of his life. He beamed with pride and admiration when speaking their names. He showed up for his children and grandchildren in many ways, from introducing them to the Lord, to taking them to church, to taking them to many beach trips, to swim meets, supporting them when they chose to be baptized, to taking them to work with him, letting them work on the roof with him and showing them his trade, to throwing grounders and playing catch with them, to coaching their teams, to teaching their Children's Church, to going to their sporting events, to early morning hot chocolate, burrito and donut deliveries, to shopping sprees, to concerts, to picking them up from school and taking them out to lunch or dinner, from bbqing for a USC game, to taking them to college and professional games and simply watching movies together and calling them to talk about their day or their dance or their sport. He truly loved them and simply wanted to be the best person for them. He was a giving man who helped those in need. He was strong, resilient and hard working. He was positive and loved life. He really loved the beach, where he spent much time with his family and friends throughout the years. He loved watching sports, especially football. He loved the USC Trojans(Fight On) as well as the Hollister Haybalers, where he loved watching his sons, daughter, grandchildren, nephews and many family members play. In earlier years, he loved the Forty-Niners and together with his grandson, he grew a love for the Steelers. He had a garden, where he loved growing vegetables for the dishes he made. He loved to eat good food, make good food and share it with his family and friends. He knew where all the good restaurants were. It brought him great joy to cook for his family and friends. He loved to cook his amazing posole and famous breakfast burritos that were loved by so many. He even taught his granddaughter how to make both those dishes. He loved hosting his Fourth of July family bbqs and prime rib dinners. Most of all, he loved the Lord, Jesus Christ. You were the best grandpa, you were one of a kind Grandpa Al. We love you with our whole hearts. You will be missed dearly. It is not goodbye, it is, see you again someday. Alfonso is survived by his children Amber Lee Diaz Botelho and her husband Brian Botelho, Damien Christopher Diaz and his wife Liz Diaz, Joshua Keith Diaz and his wife Lacey Diaz, David Samuel Diaz and his grandchildren Damien Botelho, Barbara Jayda Botelho, Isabela Botelho, Audyn Diaz, Donovan Diaz, Oakley Diaz, Berkley Diaz, Hartley Diaz and Avery Diaz. He is also survived by his siblings Alice Haro, Abbie Diaz, Larry Diaz, Diane Diaz Hopkins and many nephews, nieces, cousins, uncles, aunts, in-laws and friends. He was preceded in death by his wife Barbara Britt Diaz, mother Eleanor Ruiz Diaz, father Jesus Alfonso Diaz, grandmother Ynes Diaz, grandfather Jesus Angulo Diaz, grandfather Gregorio Ruiz and grandmother Antonia Casas Ruiz. A Celebration of Life will be held on Saturday, January 8, 2022 at 11:00am at Grunnagle-Ament-Nelson Family Funeral Home. Reception will follow immediately after service at Legacy Church at 372 4th Street in Hollister, Ca. Psalm 23:6 Surely goodness and mercy will follow me all the days of my life, and I will dwell in the house of the Lord forever. In lieu of flowers, people can donate to The American Cancer Society. Covid rules will apply; Mandatory Mask.
Memorial Service
11:00 am - 12:00 pm
Saturday, January 8, 2022
Grunnagle-Ament-Nelson Funeral Home
870 San Benito Street
Hollister, California, United States
831-637-3757
Reception
Please join family and friends for a reception to be held immediately following services located at 372 4th Street, Hollister, Ca 95023
Share Your Memory of
Alfonso
870 San Benito Street | Hollister, California | 95023
Phone: (831) 637-3757 | Fax: (831) 637-8959 | Email: tmgan@att.net
Office Hours:
Monday - Friday
8:30 AM to 4:00 PM
On Call 24/7