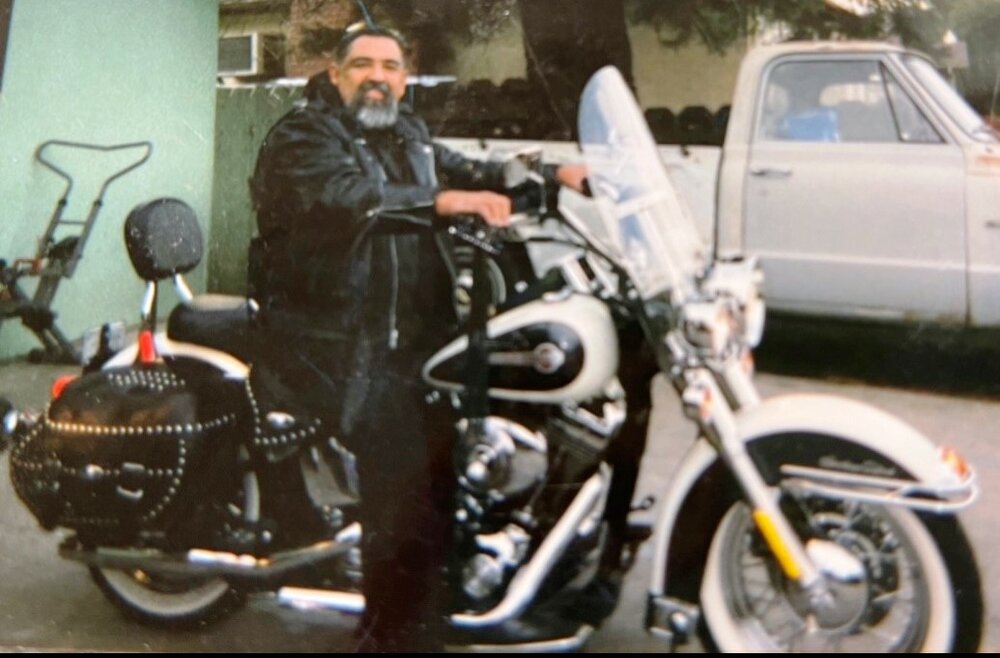 Obituary of Carlos Alberto Escamilla
Please share a memory of Carlos to include in a keepsake book for family and friends.
Our beloved Father, Carlos Alberto Escamilla Sr., passed away on November 26, 2021, at the age of 66. He had a short battle with Covid-19 that ended his life abruptly at his home in Hollister, CA. Our hearts and souls are heavy with sorrow in his absence. Carlos Escamilla was born to his parents Salvador & Gloria Escamilla in 1955 in Mexicali, BC, Mexico. He moved to Hollister at the age of 8 where he grew up and graduated from San Benito High in 1974. He continued his studies at Gavilan College where he attended autobody classes and developed a passion for body and fender. In 1979 Carlos had his first-born son Daniel, shortly thereafter in late 1980 Carlos Jr. was born. It wasn't long after that his princess, Annette Marie was born in 1982. Carlos was a strong, kind, loving and supportive father. He enjoyed camping at the lake and riding dirt bikes at Hollister Hills with his kids and nephews by his side. Carlos had many friends that enjoyed being around him and as a family man they all created many memories. Some described him as a gentle giant. Carlos loved being outside. On warm sunny days he enjoyed taking his Harley out for a cruise. The next day he would enjoy cleaning up and polishing his bike. He enjoyed working on his 1954 Chevy and 1957 Fairlane. He worked on both cars any chance he got. He had just gotten the '54 to a drivable state and was very excited to share his accomplishment. He recently had the opportunity to finally take it for a spin around the block, boy was he excited!! Papa's pride and joy was with his grandbabies. The bond that he had with each baby was so unique, warm, and unconditional. He enjoyed visiting and never hesitated to wake a sleeping baby even if they had just gone down for a nap. As his grandchildren got older, he looked forward to sharing his latest projects and creations. Anything from his yellow trike, the red scooter, Buddy's trailer, to showing off his freshly running Chevy with a 350. Carlos was willing to go above and beyond to give anyone a helping hand. There is no doubt that he loved everyone and had an immense amount of love from all. If you went somewhere with Carlos, you would be gone awhile. He would strike up a conversation with an old friend or he just made a new one. He looked forward to Church on Sundays with his wife Renee. He had an amazing relationship with everyone in his church and was loved and adored by all. It was his second home and his second family. Carlos was baptized this past Easter at Legacy Church with a beautiful outdoor service. He found his love and connection with God. He is lovingly survived by his wife Renee Escamilla, Father Salvador H. (Gloria-preceded in death) Escamilla, Sister Ana Gloria (Chuy-preceded in death) Ruiz, Brothers Salvador (Gayle) Escamilla Jr. & Eddie (Teri) Escamilla. Sons Daniel (Carla) Escamilla, Carlos (Lupe) Escamilla Jr.& Daughter Annette Marie (Rick Huse) Escamilla. Stepchildren Matthew (Andrea) & Victoria. Grandchildren Ricky, Melissa, Victoria, Daniel Jr., Maylene, Elias Matthew, Sarah, Jayden, Leilani, Charley, Kenzo, David, Elliana, Kristian. Along with many other nieces and nephews and his beloved Buddy (Aka Yappas). There will be a private ceremony held on December 10th with close relatives due to circumstances.
Share Your Memory of
Carlos
870 San Benito Street | Hollister, California | 95023
Phone: (831) 637-3757 | Fax: (831) 637-8959 | Email: tmgan@att.net
Office Hours:
Monday - Friday
8:30 AM to 4:00 PM
On Call 24/7