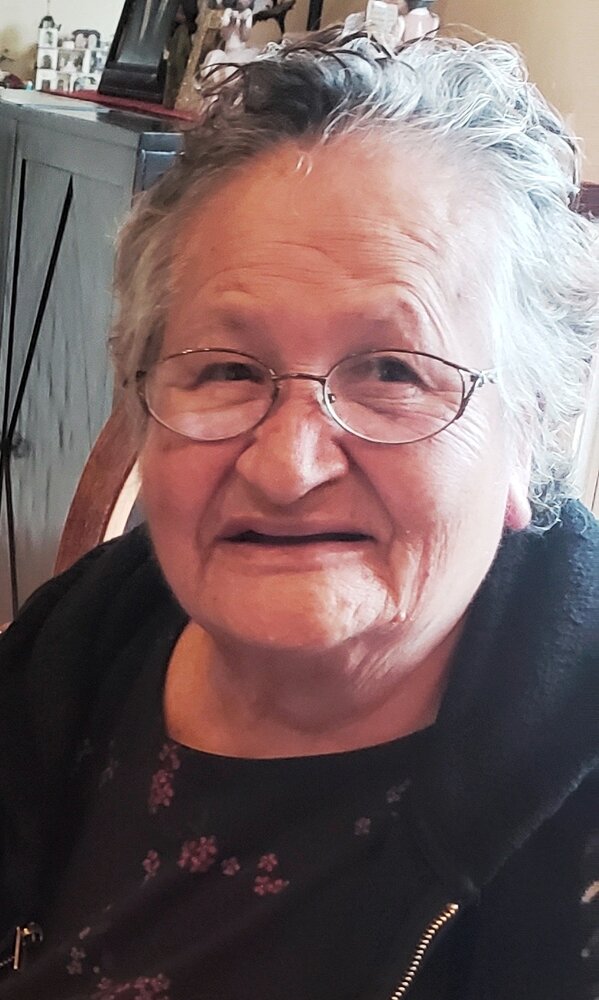 Obituary of Juana Botello Lopez
Please share a memory of Juana to include in a keepsake book for family and friends.
Juana Botello Lopez passed away at her Hollister reisdence on October 7th, 2021 at the age of 80 years. Juana (Ama) Botello López, passed away peacefully in her home on Thursday, October 7, 2021, surrounded by her family. She was 80 years old. Ama was born in El Novillero, a ranch in the outskirts of the town of Cueramaro, Guanajuato, Mexico. She came to the United States in the early 1970's and settled in Hollister, CA where she worked for over thirty years with Casillas Bros. Farms harvesting onions, tomatoes and bell peppers. She above all was a consummate spouse, mother, grandmother, great-grandmother and faithful believer in God and her favorite saints, El Santo Niño de Atocha, La Virgen de San Juan, la Virgen de Guadalupe and San Martin de Porres. In her retirement years, Ama dedicated her life to taking care of her husband, Francisco (Apa). She enjoyed cooking and feeding her children, grandkids and great grandkids. She loved tending her garden especially her nopales and walking around the neighborhood with Apa. Ama enjoyed coloring, sewing and eating pan dulce. She was a very generous soul and would never pass an opportunity to do something nice for someone or to give to those in need.  She will be remembered for her sweet smile, her immense love for her family and her devotion to her husband, Francisco. Her family and friends will truly miss her but take comfort in that she is now resting peacefully in Apa's arms. She is preceded in death by her beloved husband of 63 years, Francisco López Gutierrez, her parents Jose Botello and Lorenza Prieto and two siblings, Gabino Botello and Maria Botello.   Ama leaves behind her eight children, daughter Belen López, son Otilio López (Guadalupe), son Adolfo López (San Juana), daughter Josefina Trujillo (Rodrigo), daughter Esperanza Moreno (Robert), daughter Martha Quezada (Jose), daughter Estela López Gilliam (Haywood), and son Martin López (Alexandria). She is survived by her fourteen grandchildren: Juan Jose López (Sara), Maria Selenia Zelaya (Angel), Erika Trujillo-Hernandez (Imer), Robert Anthony Moreno, Edgar Fabian López (Jennifer), Alexander Trujillo (Thalia), Carlos López, Michael Moreno, Adolfo López, Jr., Daniella Moreno, Nancy López, Christian Trujillo, Eduardo Quezada and Maya Pearl Gilliam; and her ten great grandchildren: Damien Jaime, Angelo Zelaya, Noah Zelaya, Alia Yolanda Moreno, Ariana Renee Moreno, Ariel Josefina Trujillo, Anaya López, Andraya Rose López, Kevin Mateo López, and Kimberly Mia López. Also, surviving Ama are her siblings, Esteban Botello, Manuel Botello, Guadalupe Botello, Juana Botello and Candelaria Botello. Family and friends are invited to a Viewing on Sunday, October 17th from 2-7 p.m. with a Rosary at 6 p.m. at Grunnagle-Ament-Nelson Funeral Home in Hollister, CA. A Mass in her honor will be celebrated on Monday, October 18th at 11 a.m. at Sacred Heart Church followed by a burial at Calvary Cemetery. Covid Rules will Apply - Must have a mask upon entering the facility.