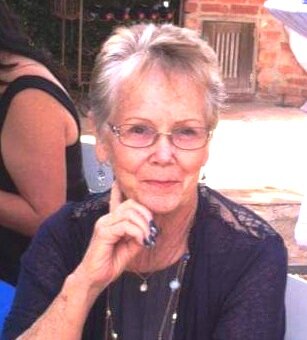 Obituary of Tracy Laverne Martin
Please share a memory of Tracy to include in a keepsake book for family and friends.
Tracy Martin, beloved mother, grandmother, sister, aunt and friend left this world on August 19, 2021. She passed away in her home in Hollister, CA. Christened Edna LaVerne Woods, Tracy was nick-named in school by a friend who thought it better suited her personality. Anyone who knew her could appreciate that personality. She was funny and loving, a good sport and good natured. Her laugh and her smile let you know what real affection was. Born on March 1st 1943 in Richmond, CA, Tracy, her brother Ronald and sister Betty were the children of Leo and Edna Woods. The family lived in Wasco and McFarland CA, where they picked cotton and potatoes and lived a modest life. In McFarland Tracy met her first husband, Charles Price. They married shortly after and had two daughters, Wendy Rene and Shawna Dale. The marriage lasted many years, surviving the loss of Shawna at the age of two, but not surviving the changes that pull people apart when they marry young and grow in different ways. Anyone who witnessed her perseverance and tenacity had to marvel at Tracy's work ethic. For many years she was a hair dresser in Hollister. She was employed by Brown and Chappell Hardware and managed a local Salvation Army store. She retired from Marich Confectionary. She worked hard and enjoyed life. Did you ever see her dance? Did you listen to Ray Charles records with her, or jump on a trampoline of or swim in the creek together? She loved spending time at the family cabin in the shade of the big trees by day and playing cards by night. She baked and canned and entered the local fair every year. Her Jams, Jellies and canned veggies won many blue ribbons which she was very proud of. She loved spending time with her grandchildren and stood in for her oldest grandson at his wedding. She could be heard on Friday nights rooting on her two youngest grandsons in the stands at their football and basketball games. She adored her great-granddaughters, and most of all she loved her daughter with a tender fierceness. Tracy was preceded in death by her parents, her infant daughter Shawna Dale Price and her nephew Jerry Dwayne Woods. Surviving family members include her daughter Wendy Noble, grandsons James (JR) Alan Richmond Bryan Noble, Colby Noble, granddaughter-in-law Molly Richmond and great-granddaughters Lilah Richmond and Elliana Richmond; her brother Ronald Woods and his wife Kitty Woods, one great niece Janet Dye and her brother's grandchildren. Her brothers and sisters-in-law, nieces, nephews, great-nieces and great-nephews of the Price and Martin families mourn her passing too. Of her adopted family members, Tracy had no end: Norma Benson, her best friend of over 50 years, Norma's children Sherri Hubbell and Lee Benson, and grandson's Clay & Cole. Norma meant everything to her; Abigale Martin, her adopted granddaughter as her kindred spirit; Arlene Santos was a treasured friend she spoke of with much love; "The lunch ladies": Candy Moreno, Barbara Schneider, Donna Marden shared years of love and laughs; Donna & Bill Berlin and their daughters Alanne and Breann were especially dear to her, sharing a garden and the best parts of life. Monica Sanders was also a dear friend of Tracy's. A Memorial Service will be held September 25th 11:30 am at the Ridgemark park/BBQ area. A light lunch will follow. Those wishing to participate in the "service" please call or email Wendy @ p.wendy@rocketmail.com or call 831-265-2302. Donations can be made in her name to local charities.