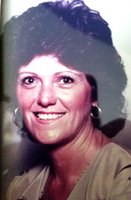 Marilyn Anita Johnson
On April 3, 2018 Marilyn Johnson passed away in Hollister California after battling Parkinson's disease for 25 years. Marilyn was born in Fort Smith Arkansas on February 16, 1941 to Wayne and Bonnie King. After WWII she and her parents moved to Salinas California and a few years later moved to Hollister California where they settled. Marilyn attended local schools and graduated from San Benito High School in 1958.
Marilyn married Frank J. Falcone in December of 1960 and had her son and daughter Joey and Terrie Falcone. After 20 years of marriage Frank passed away.
On December 8, 1985 Marilyn married the love her life of 32 years, Steve Johnson. Marilyn was employed for over 30 years at Tri Valley Growers as the Office Manager. She loved to travel and play sports. She was an avid softball player, horsewomen, and trained, bread, and showed working Border Collies at her home in Paicines, Ca. She was a member of the Immaculate Conception Catholic Church in Tres Pinos, Ca.
Marilyn is preceded in death by her parents Wayne and Bonnie King and her beloved Aunt Stella Blocker. She is survived by her husband Steve Johnson, son and daughter-in law Joey and Wendi Falcone, daughter Terrie Fuentes, and grandchildren Sabrina Wark, Dominique Falcone, Joseph Falcone, Clint Fuentes and Blake Fuentes, great grandson Jakson Wark, and multiple cousins, nieces and nephews.
Marilyn requested to be cremated. Services will be held on Saturday April, 14, 2018 at 12:00 noon with a celebration of life immediately following at The Inn in Tres Pinos. Donations would be appreciated to Pet Friends in San Benito Co.