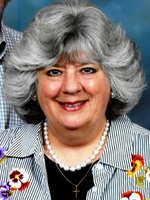 Irene Lee Schultz
Irene Lee Schultz passed away at her San Juan Bautista residence on March 26th, 2018 at the age of 72 years.
Irene was preceded in death by the love of her life & best friend, her "Sweet Henry". She is survived by her children Jennifer & Erich; Grandchildren Alexandra (Jonathan), Amanda, Wil, & Simone; Great-Grandchildren Aaliyah & Vincent; Her mother Adele and sisters Helen (Vernon), Dorothy, Janice (John), & Barbara (Nick); many cousins, nieces, & nephews, along with her very dear friends from church, state park, & aquarium. She loved playing Pedro and Bridge and will surely miss her many afternoons & evenings with her card companions. Irene was the Treasurer & a Docent for the San Juan Bautista Plaza History Association & State Park for over 13 years. She volunteered every other week as a visitor guide for the Monterey Bay Aquarium & met many amazing friends there. She loved attending her weekly "Ladies Luncheons" and met many new friends through the senior lunch & breakfast groups. She is with Daddy-O dancing through the stars to the "Lady in Red" and happiest being together once again, they can now both truly Rest In Peace & Eternal Happiness.
Services will held at St. Ansgars Lutheran Church, 72 East San Joaquin St., Salinas, CA 93901 on April 14th, 2018 at 2:00 p.m. A reception will follow at the church hall.