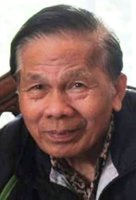 Antero "Teroy" Ultra Irinco
Antero "Teroy" Ultra Irinco, 81, of Hollister, died at 8:13AM, Thursday, January 11, 2018 at Community Hospital of the Monterey Peninsula Monterey, California. He was born September 5, 1936 in Northern Samar, Philippines to Apolonio and Luisa Irinco.
He is survived by his loving wife of 49 years, Esmeralda "Eda" Irinco; along with three daughters; Beverly, Elaine, and Venus of Hollister, California; two surviving siblings, Avelino "Bening" Irinco of Salinas, California and Anita "Aning" Irinco Benasa of Taguig City, Philippines and many other loving nieces, nephews, relatives, and friends.
He enjoyed playing slot machine at the casino and lottery scratchers. He also loves spending time with his older brother Bening going fishing, giving each other haircut, and watching Filipino movies.
Viewings are Sunday, January 21, 2018 at 10:00 am - 5:00pm and Monday, January 22, 2018 at 12:00 pm – 8:00 pm (Rosary starts at 6:00 pm) at Grunnagle-Ament- Nelson Funeral Home 870 San Benito Street, Hollister, CA.
Memorial services for Antero "Teroy" Ultra Irinco will be held at 11:00 am, January 23, 2018 from the St. Benedict Catholic Church, 1200 Fairview Road, Hollister, CA with Rev. Dennis Peterson officiating. Burial will follow in Calvary Cemetery at 1100 Hillcrest Road, Hollister, CA 95023.