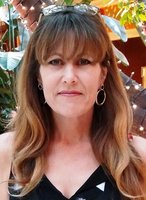 Danyette Elaine Wright
Danyette Elaine Wright passed away at her Hollister residence on October 8th, 2017 at the age of 49 years.
A Memorial Service will be held on Saturday, October 28, 2017, at 10:00 AM, at Calvary/Sacred Heart Cemetery located at 1100 Hillcrest Road, Hollister, CA 95024. Gathering immediately following at the Wright residence located at 541 Spring Grove Road, Hollister, CA.